E. E. Cleveland's Funeral Streamed Live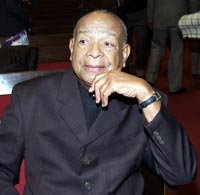 Cleveland, Edward Earl, 88, born March 11, 1921, passed August 30, 2009 at Huntsville Hospital.
Cleveland had served the Seventh-day Adventist Church for more than 60 years as pastor, evangelist, church leader, teacher, civil rights leader, and mentor to thousands of preachers.
Cleveland began his pastoral ministry in 1942 in the Carolina Conference. He subsequently served as evangelist in the South Atlantic and Southern Union Conferences. From 1954-1977 he served as Associate Secretary of the Ministerial Association of the General Conference of Seventh-day Adventists. After leaving the General Conference, he went to Oakwood College where he served as Director of the Department of Church Missions and as an Instructor in the Department of Religion.
Cleveland was preceded in death by his wife Celia Abney Cleveland.
Survivors include: his son and daughter-in-law, Earl and Pinkie Cleveland; Frieda Cleveland Steele and Veda Cleveland; a sister-in-law, Elizabeth Cleveland; four grandsons; three granddaughters, one cousin, Dolly; and other relatives.