Dr. Ron C. Smith Elected President of the Southern Union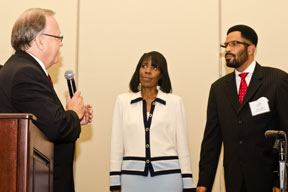 Dr. Ron C. Smith new president of the Southern Union Conference, and his wife Yolanda are congratulated by Dan Jackson, NAD president and Chair of the Session. [photo: Steven Norman]
In its 18th Quinquennial Session on Sunday, September 18, 2011, the Southern Union Conference delegation elected Dr. Ron C. Smith president. Smith will be replacing President Gordon Retzer who has chosen to retire.
"Thank you for trusting us," says Smith, "and by God's grace we want to be loyal, faithful, and committed to your charge."
Reflecting on Dr. Smith's election Retzer says, "Ron Smith is a man of God who loves people and the Seventh-day Adventist church. He is a man of integrity and character and a gifted preacher. I have greatly enjoyed working closely with him and have no doubt that God will use him to lead the great Southern Union to new accomplishments through the power of the Holy Spirit."
The Session, chaired by North American Division President Dan Jackson, also elected Jim Davidson, president of the Carolina Conference, to serve as executive secretary, and re-elected Randy Robinson treasurer; Dennis Millburn, undertreasurer; and Carlos Salazar, Association treasurer.
In addition, all departmental directors and associates were returned to office with the exception of those who are planning to retire.
Communication Director – R. Steven Norman III
Education Director – Debra Fryson
Education Specialist – Gene Brewer
Secondary Director – Jim Ingersoll
Elementary Director – Diane Ruff
Early Childhood Director – Tamara Libonati
Planned Giving and Trust Services Director – Tom Carter
Evangelism and Church Growth Institute Director – Ralph Ringer
Hispanic Ministries Director – Jorge Mayer
Native American Ministries Director – Fred Rogers
Public Affairs and Religious Liberty Director – Amireh Al-Haddad
Public Affairs and Religious Liberty Associate Director – Kevin James
Publishing Director – William Smith
Associate Publishing Director – Keith Reid
Women's Ministries Director – Laura Smith
Chaplaincy Director – Les Rilea
Three positions were referred to the Executive Committee to be filled: Sabbath School, ASI, and Children's Ministries which were held by the late Oliver J. McKinney; Church Ministries which was held by Allan Williamson; and Ministerial/Evangelism which were held by Dennis Ross. These latter two men have each served the Church for more than 40 years and will be retiring in the near future.
During the past five years, the members, pastors, educators, medical personnel, and literature evangelists have all worked together to present the Gospel to their neighbors, relatives, and friends. A major evangelistic push was made in the Good News Atlanta outreach initiative. During the past five years, more than 47,000 new members were baptized throughout the Union. The Southern Union now has more than 255,000 members who collectively gave just under one billion dollars ($933,724, 874) in tithe during the same period. This growth and faithfulness in stewardship is a demonstration of the power of the Holy Spirit, and the commitment of the Southern Union to keep evangelism its consistent purpose, practice, and priority. We thank God for His bountiful blessings.
Coming Soon:
Photo Gallery
Video of Gordon Retzer announcing his retirement