Adventist Community Services Responds to Nashville Flooding
Nashville distribution center opens
Decatur, GA – May 12, 2010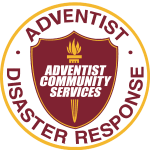 The Tennessee Resource Staging and Distribution Center (TRSDC) opened on Tuesday, May 11. The TRSDC will receive supplies for distribution to agencies serving persons affected by the flood in the Nashville area. The TRSDC hopes to be in operation until January 1, 2011.
The TRSDC does not distribute directly to residents and businesses affected by the flood, but instead allocates supplies to other agencies that are open to the public. These distribution points will include four Adventist churches in the Nashville area and other Adventist churches in the mid Tennessee and Kentucky area.
Allan Williamson, director of Adventist Community Services/Disaster Relief, says, "We appreciate the dedication and servant leadership of our volunteer Adventist Community Services church members who are helping serve the flood victims in the Greater Nashville area."
The TRSDC provides items such as food, cleaning supplies, bug spray, sunblock, and other personal care items to other distribution centers between the areas of Nashville and Memphis.
The National Guard is currently handling water distribution out of an airplane hanger in Smyrna, TN, but it will be moved to the TRSDC and managed by FEMA.
The TRSDC is located on 410 Harding Industrial Drive in Nashville.
Terry Haight, who oversees the TRSDC, says, "This is not set up just to help the Nashville area. This is set up to help anyone that's been flooded in Tennessee. Hopefully, if we can get the supplies in, then we can start dealing with the local distribution sites and get them supplies and so forth. The more supplies we get them, the more people we can help and the quicker we can help them."