R. Steven Norman, III
Communications Director / Southern Tidings, Editor
(770) 408-1800, ext. 128
High Resolution Photo



Nathan Zinner
Associate Director
(770) 408-1800 ext. 132
Irisene Douce
Southern Tidings, Managing Editor
(770) 408-1800 ext. 131
Julie Burks
Designer
(770) 408-1800 ext. 129
Bobbie Millburn
Southern Tidings Circulation
(770) 408-1800 ext. 130
Reggie Mattison
Church Signs
(770) 408-1800
Electronic Southern Tidings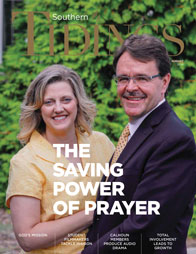 The Saving Power of Prayer
"Do not be anxious about anything, but in every situation, by prayer and petition, with thanksgiving, present your requests to God," Philippians 4:6, NIV.
Cindy Mercer was fed up. She was ready to leave her husband.
His toxic lifestyle of drug abuse, alcoholism, and lasciviousness was tearing their family apart.
"I hated him," said Mercer. "I cried out to God … I can't continue to live like this!" >Read More!
Florida Hospital for children among top 50
U.S. News & World Report, the global authority in hospital rankings and consumer advice, ranked Adventist Health System's Florida Hospital for Children's neonatology program No. 42 in the nation in the new 2018-19 Best Children's Hospitals rankings released recently.
The 12th annual Best Children's Hospitals rankings recognize the top 50 pediatric facilities across the U.S. in 10 pediatric specialties: cancer, cardiology and heart surgery, diabetes and endocrinology, gastroenterology and gastrointestinal surgery, neonatology, nephrology, neurology and neurosurgery, orthopedics, and pulmonology and urology. >Read More!
ShareHim Goes to Lesotho
Carolina Conference President Leslie Louis and a team of nine young adults recently went on a ShareHim evangelism trip to South Africa. The team spent more than a week in the kingdom of Lesotho in a town called Mohale's Hoek.
The area had already been exposed to Adventist teachings, so the series of 11 sermons served as a revival and recommitment for those who live there. The team had an hour of devotion every morning, and held meetings every evening. The nightly messages focused on the book of Jonah, and near the end of the series, the sermons covered baptism. For those who expressed a desire for baptism, the group dedicated a day to providing clarification and further understanding. Since the church had no baptistry and the river was too cold, the group drove an hour to a church with a baptistry, and 27 individuals were baptized. Several more candidates are preparing for baptism as well. The ShareHim team also ministered to prison inmates for several days, focusing their messages on God's faithfulness. >Read More!
Camp Hawthorne Reboots
Nowadays, passers-by pull over to take a closer look at the lake that sits in the center of Camp Hawthorne. It's no surprise, though. With the recent upgrades to the lake and to the grounds, it's really hard to miss. Drivers on Highway 20 are almost blinded by the sunbeams bouncing off the sparkling waters in the lake. And, if that doesn't get their attention, the fountain spouting up into the air in the center of the lake will do it easily.
Gregory Mack, president of Southeastern Conference (SEC), stated, "We will continue to develop our campground so that it is a sought after destination for ministry events, but also a more enjoyable place for the entire Southeastern family to be refreshed and renewed." Camp Hawthorne has been the primary site of Southeastern ministry events for more than 40 years. Recently, it received a long list of upgrades to ready it for future ministry to the next generations. >Read More!
Student Club Places Second in National Competition
Southern Adventist University's Enactus team placed second in their league at the national level this summer. This was their highest placement to date, putting them in the top seven percent of all 444 Enactus teams in the United States.
"The idea is we all win because we're helping people," said Michelle Doucoumes, Enactus sponsor and assistant professor in the School of Business. "Every Enactus project is not just to raise money, but also to improve people's lives." >Read More!