R. Steven Norman, III
Communications Director / Southern Tidings, Editor
(770) 408-1800, ext. 128
High Resolution Photo



Nathan Zinner
Associate Director
(770) 408-1800 ext. 132
Irisene Douce
Southern Tidings, Managing Editor
(770) 408-1800 ext. 131
Julie Burks
Designer
(770) 408-1800 ext. 129
Bobbie Millburn
Southern Tidings Circulation
(770) 408-1800 ext. 130
Reggie Mattison
Church Signs
(770) 408-1800
Electronic Southern Tidings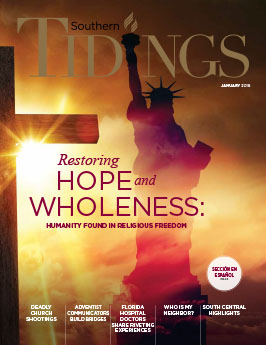 Restoring Hope and Wholeness
Humanity found in Religious Freedom
So often when we as Seventh-day Adventists look at the role of religious liberty, we relegate it to the confines of what we know about Sunday laws or Sabbath accommodation in the workplace, and very little else. This part of religious liberty work is important, but often we lose sight of greater issues going on around us. While the country as a whole has tuned in to a period of self-reflection and looking inward to our own problems — especially after the events of Charlottesville, Las Vegas, and Sutherland Springs — it may bring hope and wholeness to our souls by concentrating on others for a moment as we begin a new year.
I am hard-pressed to find anyone who lives or works around me who does not see a worrisome trend in the world today, of political division and loss of love and kindness for one another. Certainly, news during the last few months has brought out some points that we as Christians cannot and should not ignore. Current events happening in our world today should be as an alarm sounding, calling all Christians to review how we treat other human beings. >Read More!
Florida Hospital Doctors Return from Puerto Rico
SHARE RIVETING EXPERIENCES
They found a diabetic elderly woman covered in insects, disoriented on the floor of her home. Another day, they helped local doctors perform heart surgery. And on another, they were forced to read an X-ray outdoors, using the light of the sun.
The Florida Hospital emergency physicians were the first to receive provisional licenses to practice medicine in Puerto Rico — their license numbers 001, 002, 003, 004, and 005, respectively. After returning to Orlando, Florida, on Sunday evening, the doctors gathered to share their experiences for the first time. >Read More!
WHO IS MY NEIGHBOR?
Hurricane Irma came and went. We were told to prepare. We were told to prepare a lot, and often, for many days ahead of the storm! What equals prepared enough? What does it look like to be prepared? Can we stop the storm with our preparations? NO!
As preparations for the storm were made, Mark Reams, youth ministries pastor at Forest Lake Church in Apopka, Florida, planned beyond the storm on his radar. He wanted to offer an opportunity to serve after Irma made her exit. >Read More!
Couples Retool, Renew at Marriage Retreat
The Southeastern Conference couples retreat weekend was held October 6-8, 2017, at The Shores Resort and Spa in Daytona Beach, Fla. The theme was "Building Healthy Families." It was a weekend for romance, relaxation, renewal, and revival.
After a warm welcome from Mark Brown, Ph.D., director of family life ministries for the Southeastern Conference, Dolphy Cross, Ph.D., gave the opening seminar for the evening, "It's All About Relationship." The presentation was informative, but also interactive. In it he spoke about marital intimacy as God's design, as a powerful emotional, physical, and spiritual force for bonding. While that power is extremely destructive when used the wrong way, it is a valuable resource when lovingly exercised within marriage. Attendees were encouraged to welcome excitement in their marriages, and to not be afraid to "communicate, communicate, communicate." >Read More!
Cosecha 2017
Un grave y tal vez no sospechado impedimento para el éxito de la verdad se halla en nuestras iglesias mismas. Cuando se hace un esfuerzo para presentar nuestra fe a los no creyentes, con demasiada frecuencia los miembros de la iglesia quedan indiferentes, como si no fuesen parte interesada en el asunto, y dejan que toda la carga recaiga sobre el predicador…Cuando trabaje donde ya haya algunos creyentes, el predicador debe primero no tanto tratar de convertir a los no creyentes como preparar a los miembros de la iglesia para que presten una cooperación aceptable. Trabaje él por ellos individualmente, esforzándose por inducirlos a buscar una experiencia más profunda para sí mismos, y a trabajar para otros. Cuando estén preparados para cooperar con el predicador por sus oraciones y labores, mayor éxito acompañará sus esfuerzos." OE 206 >Lea Más!