R. Steven Norman, III
Communications Director / Southern Tidings, Editor
(770) 408-1800, ext. 128
High Resolution Photo



Nathan Zinner
Associate Director
(770) 408-1800 ext. 132
Irisene Douce
Southern Tidings, Managing Editor
(770) 408-1800 ext. 131
Julie Burks
Designer
(770) 408-1800 ext. 129
Bobbie Millburn
Southern Tidings Circulation
(770) 408-1800 ext. 130
Reggie Mattison
Church Signs
(770) 408-1800
Electronic Southern Tidings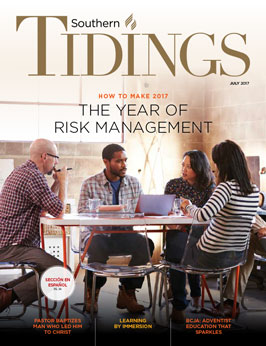 How to Make 2017 the Year of Risk Management
Helping church ministries prioritize risk management is a task Adventist Risk Management, Inc. (ARM) accepted at the request of the North American Division (NAD) Risk Management Committee in November 2016. ARM created a set of practical, measurable initiatives called the 2017 NAD Risk Management Initiatives.
By creating these initiatives, ARM encourages all NAD ministries to not only make their ministry a safer space, but also pave a way towards a safer future, hand in hand with ARM. Since the launch of the 2017 NAD Risk Management Initiatives in January, Southern Union ministries have made significant progress on these important goals. >Read More!
Pastor Baptizes Man Who Led him to Christ
When Pastor John Chaparro was baptizing Samuel Soto at Poinciana Spanish Church on March 25, 2017, I was holding the microphone. I even offered half of the prayer, but I thought it was best for Sammy to be baptized by the pastor he had led to Christ.
How did it happen?
"I clearly remember it was a Friday afternoon," Soto told me. "When I approached John to invite him one more time to attend the Adventist Youth meeting that night at our church in Añasco, Puerto Rico, I really didn't have my hopes too high. >Read More!
Ebenezer Community Service Center Distributes $50,000 in Goods to Community
The Adventist Community Service Center at Ebenezer Church in Greenville, N.C., distributed more than $50,000 worth of goods donated by two local businesses. Through a long-standing partnership with Good 360 (formerly Gifts in Kind International, founded in 1983), Ebenezer has been the recipient of donated goods from Bed, Bath and Beyond, QVC, and other top retailers. Their most recent acquisition from Advance Auto provided the Adventist Community Service Center with nearly 13,000 items, including approximately 200 batteries worth $15,000.
The Adventist Community Service Center team, with the help of volunteers from the community, logged more than 100 volunteer hours sorting, de-barcoding, and organizing the donated items for distribution. >Read More!
WISE Scholarship Provides Financial Assistance for Working Students
Several prominent supporters of Southern Adventist University recently met with school administrators and expressed their desire to assist hardworking students. While many of these donors are alumni who worked their way through college, they realize that working while attending as a full-time student is becoming less common.
As a result of these conversations, the Work Initiative Scholarship Endowment (WISE) was born. This is an umbrella initiative encompassing multiple scholarship funds. The family of alumni Bill and Myrtle Hulsey established one such scholarship in honor of their commitment to Southern. The late Bill Hulsey, who graduated in 1955, served on the Board of Trustees and was a long-term supporter of the University. >Read More!
Semana de Evangelismo "Jesús es mi Pasión".
Aprovechando el ambiente de reflexión espiritual que generan los días de la semana santa, el distrito de Mableton lanzó una serie especial de conferencias con el propósito de levantar a Jesús a través de mensajes cristo céntricos. El ojetivo fue encender en el corazón de las personas la pasión de venir a cristocéntricos Jesús. No se puede amar al Señor Jesucristo hasta no comprender lo que hizo por nosotros. El pastor Richard Urdaneta, laicos y líderes de la iglesia local de Canton, presentaron los mensajes en las iglesias del distrito. Esta dinámica participativa motivó el desarrollo de los dones y la vocación de discipulado en los miembros de la iglesia local que participaron como evangelistas.
Como resultado de esta experiencia espiritual nueve personas decidieron ofrendar sus vidas a Cristo a través del santo bautismo. >Lea Más!