R. Steven Norman, III
Communications Director / Southern Tidings, Editor
(770) 408-1800, ext. 128
High Resolution Photo



Nathan Zinner
Associate Director
(770) 408-1800 ext. 132
Irisene Douce
Southern Tidings, Managing Editor
(770) 408-1800 ext. 131
Julie Burks
Designer
(770) 408-1800 ext. 129
Bobbie Millburn
Southern Tidings Circulation
(770) 408-1800 ext. 130
Reggie Mattison
Church Signs
(770) 408-1800
Electronic Southern Tidings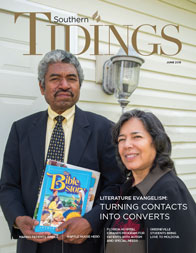 Literature Evangelism: Turning Contacts into Converts
When Zulay Waggon decided to join her husband, Roberto Waggon, as a full-time literature evangelist, her former employer worried about her financial future.
But, Zulay did not falter in her desire to do canvassing work. She accepted the call to ministry, knowing that God would somehow provide. >Read More!
Greeneville Students Bring Love to MoLdova
My class at Greeneville Adventist Academy in Greeneville, Tennessee, recently returned from a wonderful mission trip to Moldova. Moldova is the poorest European country, and it is nestled between Romania and the Ukraine. Although the weather was snowy and cold, the sweet people showered us with warm love.
During the day, our team of 26 students and chaperones worked in community service teams and vision clinics. For community service, we chopped wood, shoveled snow, thoroughly cleaned houses, visited shut-ins, and delivered food to the poorest of the poor as well as at the homeless shelter. During the week, the vision clinic, led by Brad Emde, D.O., provided free eye exams to almost 800 people, and gave away more than 750 pairs of glasses. In the evenings, we ran two Vacation Bible School programs and an evangelistic series led by Alejandro Sarria, pastor, with wonderful results. >Read More!
AHS's Hospitals Participate in National Pilot to Improve Opioid Safety
Four Adventist Health System (AHS) hospitals joined the Safer Post-operative Pain Management pilot to test and redesign new care delivery processes to better manage pain and the potential for drug addiction. The Safer Post-operative Pain Management pilot is offered through the Premier Inc. Hospital Improvement Innovation Network (HIIN).
Florida Hospital East Orlando, Metroplex Adventist Hospital, Park Ridge Health, and Rollins Brook Community Hospital joined more than 30 industry-leading hospitals in the effort to improve post-operative pain management from September 2017 through March 2018. The American Society of Anesthesiologists was also a key performance improvement partner in the initiative. >Read More!
Southeastern Hosts Pathfinder Bible Experience
They came from as far as California, Washington, Oregon, Canada, and some as far as Great Britain. And, they all came for one thing — to share in the study of the Word of God. The Pathfinder Bible Experience (PBE) is the official North American Division (NAD) Pathfinder Bible study program. Each year teams of six members study a book of the Bible to be tested at several events on various levels. There are four levels of competition: area, conference, union, and division. This year's division was held at the Southeastern Conference Campground, Camp Hawthorne in Hawthorne, Fla.
More than 4,000 Pathfinders, parents, and friends flocked to Camp Hawthorne on April 20, 2018, to spend the weekend testing their Bible knowledge. The weekend event began with a Vesper service that featured songs; a short play based on the book of Esther; and a keynote message by Vandeon Griffin, associate director of youth ministries at the NAD. The Sabbath morning schedule began with the finals testing. The chairs in the campground's main pavilion were all rearranged, so that nearly 200 teams of six could huddle in small groups and discuss the word of God. >Read More!