R. Steven Norman, III
Communications Director / Southern Tidings, Editor
(770) 408-1800, ext. 128
High Resolution Photo



Nathan Zinner
Associate Director
(770) 408-1800 ext. 132
Irisene Douce
Southern Tidings, Managing Editor
(770) 408-1800 ext. 131
Julie Burks
Designer
(770) 408-1800 ext. 129
Bobbie Millburn
Southern Tidings Circulation
(770) 408-1800 ext. 130
Reggie Mattison
Church Signs
(770) 408-1800
Electronic Southern Tidings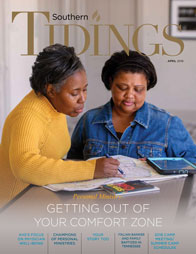 PERSONAL MINISTRY: GETTING OUT OF YOUR COMFORT ZONE
"Personal ministry is not about always knowing what to say. It is not about fixing everything in sight that is broken. Personal ministry is about connecting people with Christ so that they are able to think as He would have them think, desire what He says is best, and do what He calls them to do even if their circumstances never get 'fixed.' It involves exposing hurt, lost, and confused people to God's glory, so that they give up their pursuit of their own glory and live for His." ―Paul David Tripp, pastor and best-selling author
The Holy Spirit never ceases to amaze me. One Sabbath not too long ago, the pastor at the church I was attending told his members — in the most respectful yet direct way possible — that they needed to be more than just pew warmers. He wasn't mean or flippant, didn't have a tone. He just wanted them to step outside their comfort zone and look for ways to attract people, not necessarily to the Church, but to Christ. He wanted them to consider some type of personal ministry. Well, I have to admit, he reached me. For a while, I'd been thinking of things I could do to reach people outside the Church, to win souls. Indeed, the pastor's sermon moved me. But, after recent conversations with four personal ministry leaders, I was convicted even more to do something. >Read More!
Forest Lake Academy's Biomechatronics Group Partners to 3D-print the Future
Forest Lake Academy (FLA) Biomechatronics Group in Apopka, Fla., has partnered with E-nable (enablingthefuture.org) to provide 3D printed prosthetic devices to children in central Florida who suffer from amniotic band syndrome.
The syndrome is a congenital amputation disorder causing children to be born without an arm or hand below the elbow. According to the Amputee Coalition, one out of every 1,000 children in the U.S. is born with the disorder. >Read More!
DiscipleTrek Could Change Everything
This new program might be the most exciting thing Cohutta Springs Youth Camp has ever set out to do! For several years an optional Spiritual Bodybuilding Bible study has been offered after lunch for teen campers. It has been a real blessing to a lot of teens and the staff that have been leading it.
Knowing that so many campers have been expressing the desire to go deeper with their understanding of God's will and their commitment to Him, Cohutta Springs is now offering a new three-week journey into Jesus' life and His radical truth. It is called DiscipleTrek. >Read More!
North Miami Church Feeds 900 Families
There are more than 14,000 family households in the North Miami area. Though not yet officially organized as a church, the 200 members of Jerusalem II French ministry group began a campaign to reach the hearts and minds of the community around them with their own food drive.
A food distribution truck delivered enough food to feed 2,000 people on December 29, 2017, in the neighborhood near the church. Jean-Nelet Joyeux, elder and community service leader, made arrangements with Gerly Germain, pastor, and contacted Florida State Senator Daphne Campbell about a food drive on the church's property. Campbell arranged to have a variety of crops provided to the community: asparagus, okra, sweet potato, artichoke, and watermelon. The community service team and church members, under the direction of Andy Francois, collaborated to serve the community. >Read More!
Nueva Congregación en Lawrenceville
Al comenzar el 2018, el 6 de enero, se organizó una nueva congregación en Lawrenceville, Georgia.
Esta compañía es fruto del trabajo de la iglesia de Doraville cuyos líderes apoyaron la salida de un grupo de miembros para trabajar en esta área. >Read More!